PHOTOGRAPHY, UI & PRINT CAMPAIGN
Commercial & Residential Space
Project Description
Photograph and create a brand for a local building. The design brief required:
Photograph a building and create a brand for the building, R&D: objectives & goals, competitive audit, target platforms, stakeholders, target audience, linear and non-linear research. Assets: Photography, mocked up responsive website, stationery, logo, brochure, magazine advertisement, penthouse rendering.
ORDER OF SIGNIFICANCE
PHOTOGRAPHY
PRINT DESIGN
ILLUSTRATION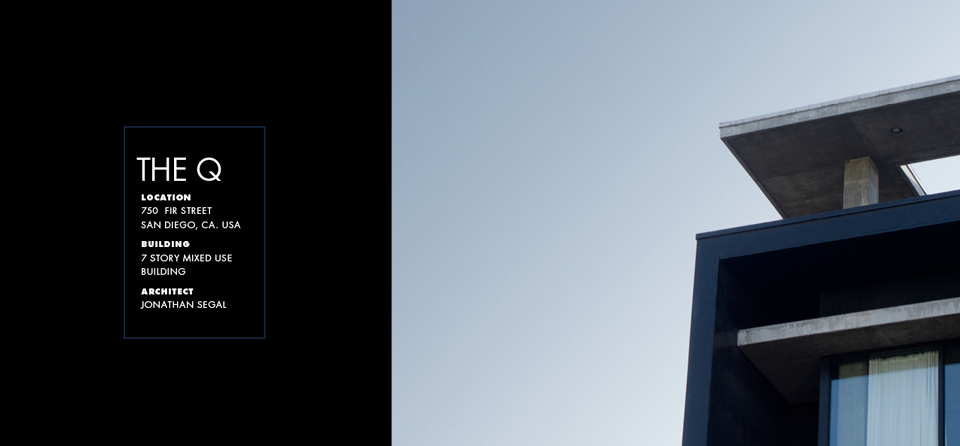 Project Overview
The Q Building
Work Summary
Brand R&D
Strategy
Logo
Website
Mobile
Identity
Advertisement
About the Client
The Q is a multi purpose building designed and built by the architect Jonathan Segal. Mr. Segal is known in San Diego for building his own structures unlike most architects who work for developers. His buildings are built to solve the challenges of the environment that they live. He leans to more modern solutions.
The Challenge
The Challenge with this project was photographing the building that shows its powerful stance but in an approachable way. The location made photographing this building satisfying because larger buildings did not surround it. One major challenge was that there was no access to the interior of the building.
The Solution
The late afternoon was the best time to capture the building's spirit. The soft sky and dark exterior worked well. The interior images that were referenced to create the Penthouse renderings were found on the architect's website.